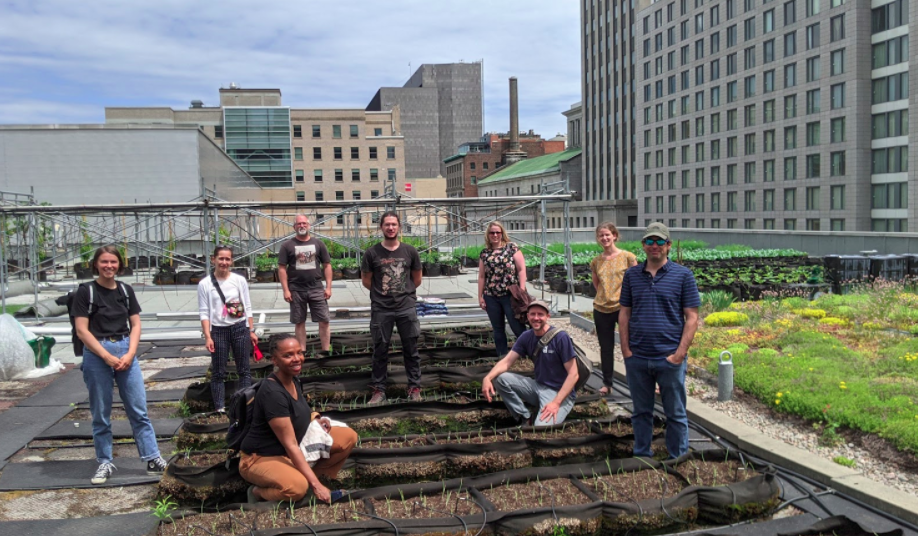 Led by Nathan McClintock, research professor at INRS, the objective of this CommunoSerre research project is to assess in an interdisciplinary and critical manner the potential for socio-technological integration of greenhouses in underprivileged urban areas. A team from the INRS Water Territory Environment Center led by Professor Jasmin Raymond (Geneviève Bordeleau, Louis-César Pasquier) with Éric Duchemin from the Urban Agriculture Laboratory as well as Danielle Monfet and Didier Haillot from ETS participate. JacksonDos Santos Brito, Florence Barnabé and Caroline Flory-Celini are the students involved in the social part at the Urbanization Culture Society Center of INRS with the supervision of Nathan McClintock and Sophie Van Neste.
2021-2023
Funded by INRS (INRS support program for innovative research projects in the fight against COVID-19) and Fondation INRS
Objectives
Examine the technical as well as socio-economic and political challenges to integrating greenhouses into the urban fabric
Propose political and social measures to promote the inclusive and fair integration of such food security and solidarity and circular economy projects in disadvantaged areas
Issue
Urban agriculture has historically thrived in times of crisis, with city
dwellers turning to home and community gardens to supplement their diets with a steady supply of healthy produce (McClintock 2010; Duchemin and McClintock, 2020). The onset of the COVID-19 pandemic has prompted
many people to turn back to gardening and become more involved in supporting local growers (Fawcett- Atkinson 2020; Duchemin 2020). Research has shown, however, that food security is a function of purchasing power and income (Sen 1983; Patel 2008). Thus, efforts to increase local food production often only benefit those who can afford to purchase local, highvalue produce, or those who have access to land on which to garden
themselves (Born & Purcell 2006; Schupp 2017). Social enterprises, community-based organizations, and municipal initiatives thus play a critical role in improving food security in disadvantaged urban neighborhoods (White & Bunn 2017; Bach & McClintock 2020).
Broadly speaking, the objective of this research project is to critically assess the potential for socio-technological integration of greenhouses in disadvantaged urban areas, which would allow for year-round food production.
Results
Expected results : Based on the assessment of social and technical challenges, the team will develop a "CommunoSerre toolkit" for stakeholders working in the three communities, as well as for others working in similar contexts.